2023 – Conversations on Wealth Management
Trends and Dynamics Shaping the Lives and Legacies of Affluent and High Net-Worth Individuals (HNIs)
Experts from different fields connected at the 2023- Conversations on Wealth Management Webinar to discuss the trends and dynamics shaping the lives and legacies of affluent and high net-worth individuals (HNIs). The webinar which held on Thursday, 26th January, 2023 was organized by Fiduciary Services Limited, a leading firm of world-class professionals who provide contemporary, bespoke, and holistic private client services to affluent and high net-worth Individuals (HNIs).
The objective of the webinar was to provide a platform to amalgamate ideas, thoughts, and insights as well as answer questions on the trends and dynamics that will shape the lives and legacies of affluent and high networth individuals in 2023 and years to come. The webinar covered such subject matters as Digital Assets, Assets Protection, Islamic Estate Planning, Citizenship and Residency Planning, Family Wealth Advisory, Corporate & Governance Advisory, and Private Equity/Venture Capital.
Moderating and speaking on the purpose of the event was Mercy Aminah-Edukugho, Managing Director of Fiduciary Services Limited. Mercy kicked off the conversation by providing everyone with a detailed review of major world events that shaped lives and legacies in the year 2022. The analysis of these events offered insights and highlighted the necessity and importance of the conversation.
The first panel session comprised of Tsitsi Mutendi (Co-Founder, Africa Family Firms), Rasheed Olaoluwa (Principal CEO, Ranora Consulting), Troy Hanley (Director Private Clients, Henley & Partners), and Mark Kleyner (CoFounder & Director of Programs, Dream VC).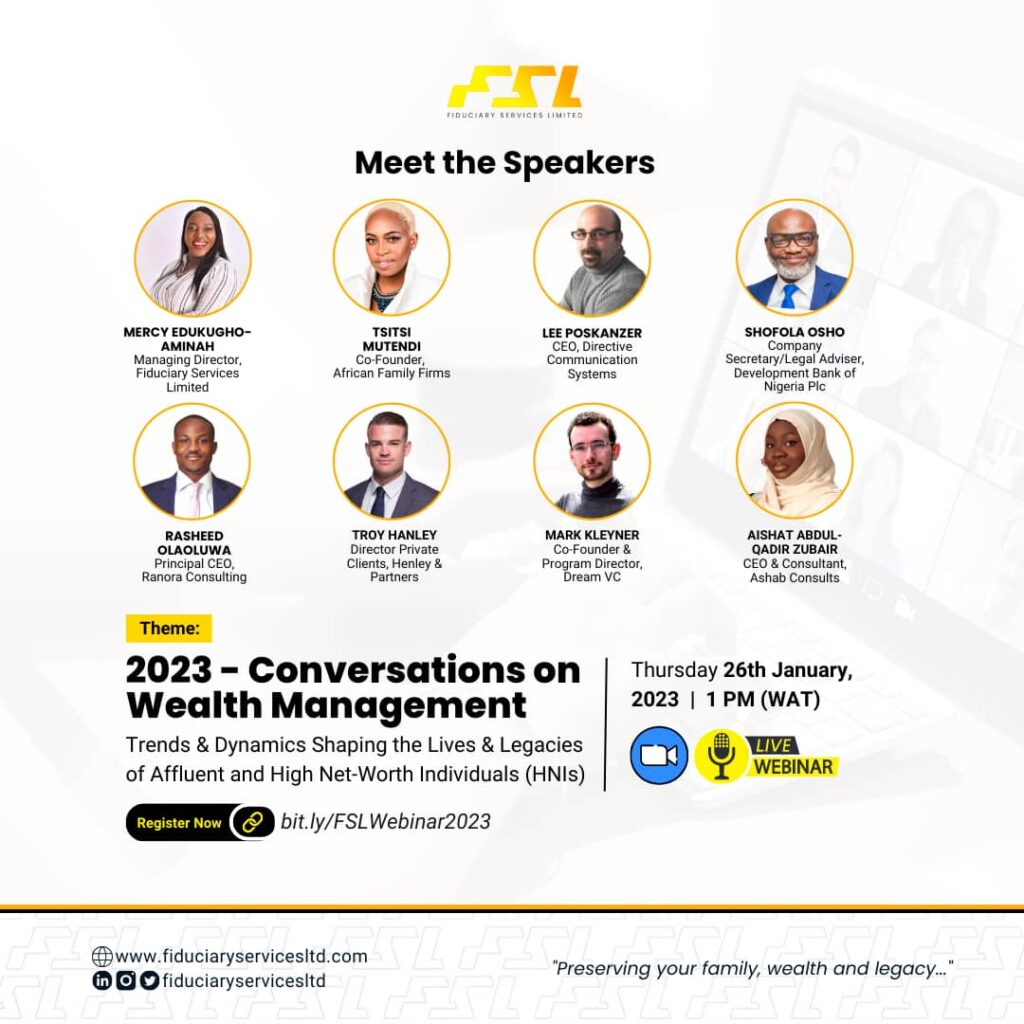 Tsitsi stated that as the world pushes past COVID into a more tech-advanced future, a major trend to look out for this year would be the rapid increase in modern and globalized families as many begin to reach for multiple citizenships in search of better jurisdictions for their families and businesses. She also spotlighted Africa's Continental Free Trade Agreement and the "One Africa" passport being spearheaded by the African Union as major events that would promote the rapid increase in globalized families and proceed to shape how global high net-worth individuals view Africa. This would also result in more funds being flooded into the continent.
Troy Hanley turned the spotlight on the volatility the world would have to endure due to global political instability and how this would threaten safety of ultra-high net-worth families and limit their wealth expansion. Rasheed Olaoluwa zeroed in on recession and inflation challenges, noting its varying impacts on the portfolios of HNIs as key issues to look out for in the year 2023.
Mark Kleyner pointed out that following the happenings over the past decade, 2023 would be heavily shaped by the movement of capital and investments which would impact the private equity space globally. Hence, portfolio diversification is one of the ways HNIs can hedge their investment portfolios and possibly multiply their wealth going forward.
The second panel session comprised of Aisha Zubair (Director, Asbab Consulting), Shofola Osho (Company Secretary/Legal Adviser, Development Bank of Nigeria), and Lee Poskanzer (CEO, Directive Communication Systems). Shofola pointed out the need for formalized governance structures by families of wealth and patriarch and matriarch of family businesses. He emphasized the role that advisors play within the wealth planning and
management space and noted that HNIs should always seek the services of professionals and certified experts such as Fiduciary Services Ltd. Lee led the conversation into the digital space by highlighting the aggressive growth in the metaverse as a result of the heavy investments and asset value going into it globally. He emphasized the continuing collision of the physical and digital spaces and our increasing digital footprints across many touch points (emails, social media, domain names, crypto assets). It is imperative that as we plan for our physical assets, there are deliberate actions to also preserve and plan our digital assets.
Aisha stated that affluent and HNI muslims should be more intentional about planning their estate, making use of tools like Waqf, Wasiyah, Hibah amongst others especially if they are concerned about generational wealth and welfare/wellbeing of their loved ones and business assets when they pass. The need for entrepreneurial education and training of the next generation was also emphasized.
You can watch the webinar video to catch up on the entire conversations and insights shared by the panelists
via bit.ly/FSLrecording.